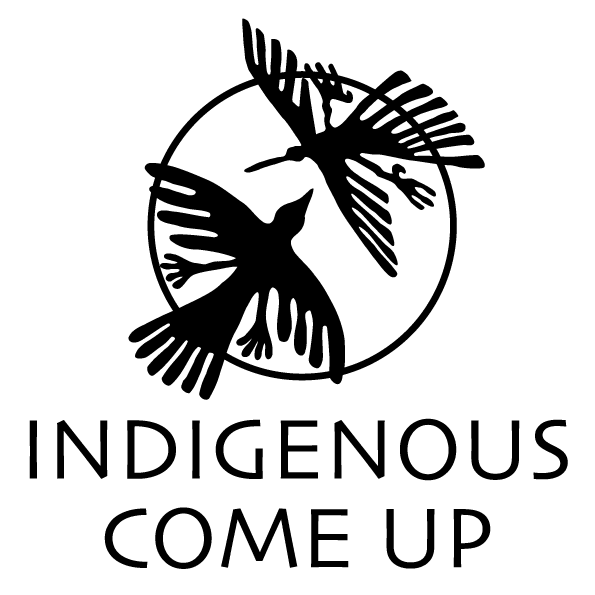 We Started with nothing, now we are
Indigenous Come Up
Indigenous owned and operated since 2018. We sell online and at local powwows and fairs, including the Portland Indigenous Marketplaces a non-profit that Indigenous Come Up founded in Oregon.
Business owner Lluvia was born in the sacred valley of the Incas in Calca, Peru.  Arts and culture were always a part of Lluvia's life as both of her parents are artists and jewelers. Lluvia grew up in marketplaces from Peru to Canada in her youth.
In April 2018, Lluvia formed her first business as Indigenous Come Up LLC. There were two young adults, Chance and Alecia that gave their time and energy into creating the vision that we have followed all these years. Chance is a co-founder of Indigenous Come Up.
In the first year of business Indigenous Come Up began to organize and then founded the Portland Indigenous Marketplaces a local non-profit.
Covid-19 has forced a total change in the operation of Indigenous Come Up and all that had been built.  Pre-Covid all of Indigenous Come Up's sales were from in person events. In 2020 ICU began to offer online sales. Through this online pivot ICU provided an accessible platform for other indigenous business owners to sell their wares online.
Post Covid, with local vendor marketplaces picking up again, ICU is once again focused on local events and bazaars. However, Indigenous Come Up now opened its doors to other retailers who would like to buy wholesale from us and sell it at their retail locations/ bazaars. This opens up the reach of Indigenous Come Up, enabling indigenous products to be made accessible in other markets as well.
Including Ahmad with TruAncestry and his African indigenous wares.
Born and raised in New Orleans LA, Ahmad has always had a passion to eat good and feel good. With a family in Oregon Ahmad started his food business, New Orleans and Family in 2019 after completing a six year sentence in state penitentiaries.
While surviving incarceration Ahmad read everything that he could get his hands on about tracing his indigenous and family ancestry/history. Once home, Ahmad took several DNA tests and spent countless hours researching his family's history.
In 2019 Ahmad found part of the history he had been looking for. The MatriClan Test through African Ancestry revealed the African region of origin and ethnic group (tribe) that Ahmad shares maternal ancestry with, his results revealed he is from the Nomadic Fulani tribe in Northern Africa.
TruAncestry is a way for Ahmad to express his love for his indigenous culture while also pivoting his business model from food to products that can be sold online.
Indigenous Come Up would not be where we are today without Ahmad, he invested his time, energy and ideas with us through our years of growth and we are thrilled and honored to have been included in his journey back to his indigenous roots.
Keep checking in on our website as we grow and expand!
Interested in selling our wares?
Send us a message, we are happy to colloborate with retailers who can carry our work in your stores, bazaars and popup events
Indigenous Marketplace on
Black Friday Weekend
710 SW Jackson St , 97201
Indigenous Shop- Pop Up
Dec 6, 7 and 8 11-7pm
800 SE 10th Ave, 97214
The Challenge
Retail Cultural  Appropriation
Buying indigenous made and designed products by indigenous owned businesses is a challenge because of the relentless cultural misrepresentation and appropriation of the retail industry and a worlwide history of indigenous cultural suppression.
Our Dream
We have big dreams at Indigenous Come Up! We founded the non-profit Portland Indigenous Marketplaces. Eventually, we want to own and operate an art studio and housing program for survivors of government and tribal systems.
Our Logo
Our logo is of special importance to us and we share its meaning whenever we can. Lluvia is indigenous to Peru, with Andean/Inca heritage – represented by the Condor. The Eagle is the larger bird representing the Native American community.
Pachacutek (Quechuan word meaning)- the prophecy of the Eagle and the Condor – came from the Q'ero people of Peru over 500 years ago. Pachacutek calls for a time when the indigenous people of the south and the north, represented by the Eagle and the Condor, will share knowledge and return to our roots and our cultures.
In our logo art, you see each of these birds represented. On top is the Condor, and below is the Eagle. The art work is inspired by the breathtaking and mind-blowing Nazca Lines of Nazca, Peru.
For Indigenous Come Up, the time for Pachacutek is now. We are preparing, and healing, for a world without systems that do more harm than good.